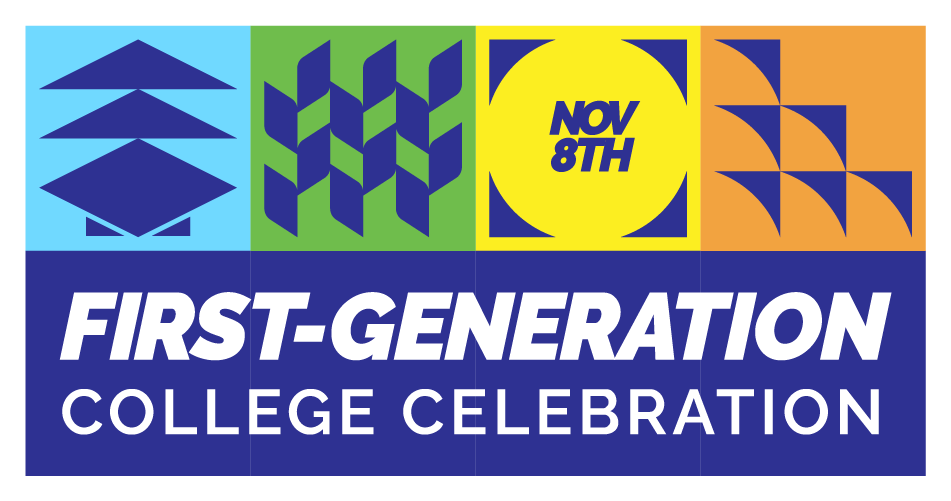 What is First-Generation Day?
In 2017, the Council for Opportunity in Education (COE) and the Center for First-Generation Student Success launched the inaugural First-Generation College Celebration! Given the continues success of this event, COE and the Center now partner to make the celebration an annual event. On November 8, 2021, we encourage colleges and universities to celebrate the success of first-generation college students, faculty, and staff on your campus in any and every way possible. Get creative! In previous years, institutions invited speakers and offered programming on first-generation student success, hosted lunch and learn events, kicked off mentoring programs, distributed first-gen swag, featured first-generation students on websites, and more! Consider how you can build relationships with colleagues, involve leadership, and use First-Generation Celebration Day as a galvanizing force across your campus community. If sharing information about your event on social platforms, be sure to tag @COEtalk and @FirstgenCenter, and use the #CelebrateFirstGen!
NASPA First Gen. Center
Why November 8th?
November 8 was selected as the date for the annual National First-Generation College Celebration to honor the anniversary of the signing of the Higher Education Act of 1965. The Higher Education Act ("HEA") emerged from President Lyndon B. Johnson's War on Poverty. Much like other hallmark legislation of that era, such as the Civil Rights Act of 1964 and the Voting Rights Act of 1965, HEA was intended to help level a playing field that for too long had been weighed against Americans from minority and low-income backgrounds. In addition to creating federal grants and loan program to help students finance their education, the legislation made key investments in institutions of higher education. Additionally, HEA ushered in programs, particularly the Federal TRIO programs, necessary for postsecondary access, retention, and completion for low-income, potential first-generation college graduates.
---
College Visions Celebrates First-Gen Day
First-generation students are central to our mission and values here at College Visions. It is imperative we take advantage of every opportunity to celbrate them and their accomplishments. First-generation day provides a nationally recognized day to join CBOs, colleges and universities all over the country in doing so. Each year College Visions will collaborate with other CBOs that serve First-Generation students to host in-person/virtual events that help spread awareness on the importance of first-generation students. Social media could be easy medium to share stories, share data and engage with other folx during the celebration. By using the hashtag #CelebrateFirstGen can engage with other institutions and organizations celebrating the event. We can ask students and alum to take pictures of themselves and using the hashtag #CelebrateFirstGen
CV 2020: First-Generation Day Celebration
For CV's inaugural First-Generation day we hosted two virtual events. The first event was an instagram live interview with CV student, Yamelly Taveras, discussing her first-gen identity, and the second event was a panel discussion hosted in collaboration with ARISE. The panelists were ARISE and CV students and the moderator was a CV Alum. They were enthusiastic about discussing the interaction of their first-generation identity and racial, ethnic and gender identities.
CV 2021: First-Generation Day Celebration
November 8th: Join our instagram live and hear directly from a CSP students as they talk about thier first-gen identity. -->5:00pm on Instagram @collegevisionspvd
November 10th: We will be screening the documentary, Personal Statement, for 40 College Visions students. -->5:00-7:00pm at the Providence Public Library Auditorium
CV 2022: First-Gen Week | November 7-11