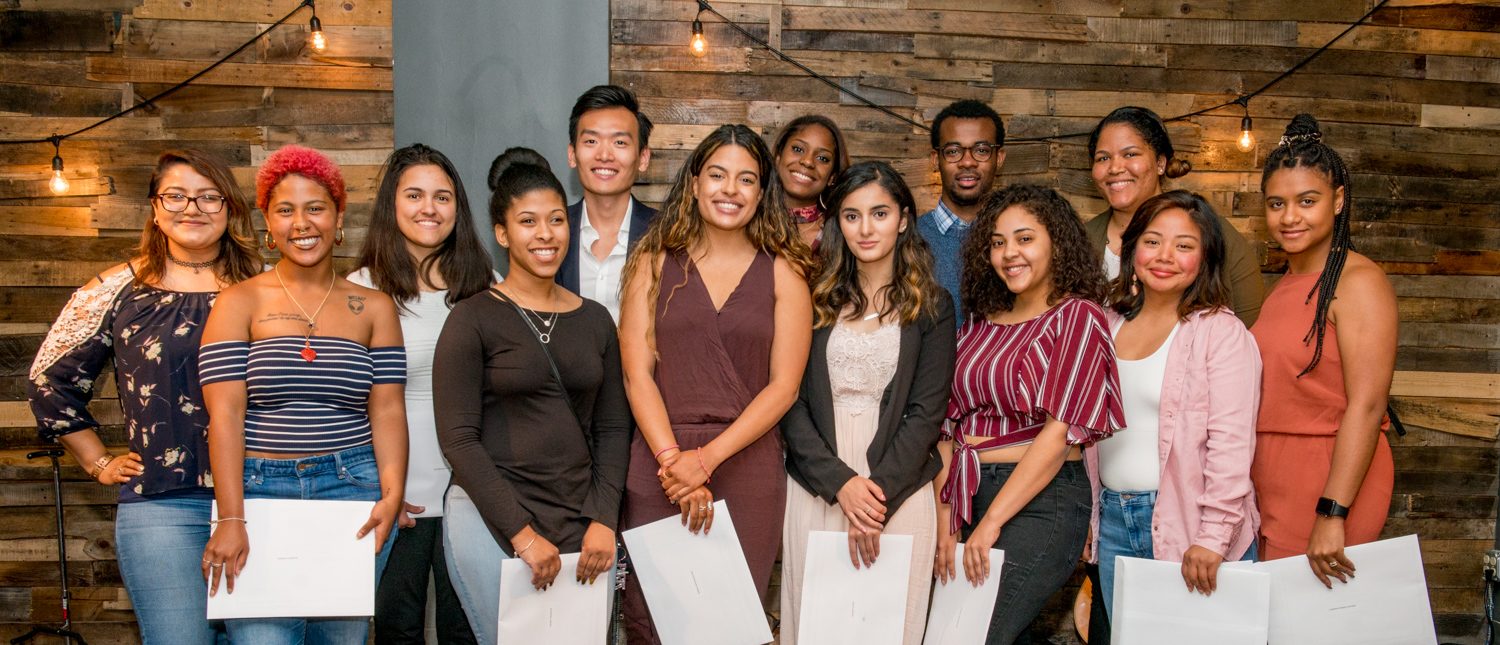 "Being a first-generation college graduate means that I've achieved the impossible. It means that I have opened endless opportunities for my nieces and nephews. It was important to not only complete this academic goal for my family, but also for myself. Graduating means that I have broken the cycle for my family generations to come."
Yuselly Mendoza, Rhode Island College '18
At College Visions, we believe our work is an embodiment of our values.
TRANSFORMATIVE
Empathetic, compassionate, and transformative relationships drive strong organizations.
At College Visions we:
Build unique relationships with all constituents, being sensitive to their individual goals, needs, and experiences.
Include students' families and/or support networks throughout a student's college journey.
Recognize the value in holistic youth programming.
Respect different ways of thinking and working.
Create a brave space for everyone – a space where ideas and opinions are shared freely, identities are lived fully, and we can question one another.
Recognize that everyone has the ability to learn and grow.
Ask questions and listen before giving advice, making a decision, or taking other action.
Empower those we advise or supervise to make their own informed, thoughtful decisions.
Acknowledge that our work evokes a range of emotions and respond in ways that are productive both individually and collectively.
Greet visitors in the office.
Celebrate staff accomplishments and achievements.
IDENTITY
In our community we honor the voice, agency, and identities of all.
At College Visions we:
Resist assumptions about the preferences, hardships, or experiences of our students, their families, staff members or the people we interact with.
Listen to the communities we partner with and have their voices guide our organization.
Meaningfully include those most affected by a decision in making the decision.
Create a welcoming space where everyone of any race, ethnicity, class, age, educational background, language, religion, sexual orientation, gender identity, accessibility needs, citizenship status or country of origin feel welcomed and heard.
Consider everyone's needs when coordinating CV events and activities, including accessibility challenges and providing food, childcare, and transportation assistance when possible.
Share and build leadership.
Whenever possible, use a participatory process in making organizational decisions.
Respect that people of color, and other groups with shared identities, may need their own affinity spaces to share experiences and address challenges.
EQUITY
Equity creates strong communities.
At College Visions we:
Recognize that we work within systems that are inequitable by design, and name and challenge those systems.
Work to dismantle the dominant paradigm of institutional racism and systematic oppression.
Witness and support our students, families and staff as they navigate systematic oppression.
Engage in active learning so that our ability to advocate for equity is continually evolving.
Acknowledge that building an equitable environment can be a slow process that requires refinement and reflection, and focus on process not just outcomes.
Create environments that allow for voices that are often less heard to be heard, including checking in with those people who tend to be quieter, and asking more dominant voices to step back and do more listening.*
Be thoughtful and transparent about our privileges and speak openly about how they shape our shared work life.
SUCCESS
Success means reaching our goals through hard work, failure and growth.
At College Visions we:
Hold high expectations for members of our community and trust that they will rise to meet those expectations.
Set clear, ambitious, and attainable goals; make our best effort to accomplish them.
Understand failure as a learning opportunity that is part of the cycle of success.
Acknowledge that success does not occur in a vacuum and often requires navigating systemic inequities.
Implement reflective practices to review and improve our work.
Promote critical thinking and innovation.
Make focused and efficient use of our time at CV.
Give feedback directly, respectfully and with a focus on solutions.*
Actively listen and be open to feedback and improvement.*
Follow through with our commitments.*
Be flexible and change course if necessary as more information becomes available.*
*Language used by permission of Rainer Valley Corps