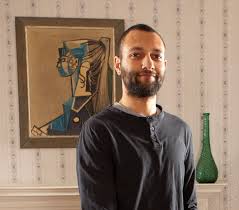 The College Success Program is named in honor of Kolajo Paul Afolabi, who was a volunteer, donor, and Board member at College Visions and who passed away unexpectedly in 2011.
Kolajo was a rising star in the academic world, exploring higher education persistence efforts. While Kolajo's academic work predicted a future in shaping large-scale higher education policy, he maintained a strong commitment to impacting his local community. And his research focused on ensuring disadvantaged populations have access to educational opportunity. It was with this spirit that he got involved at College Visions.
It was truly a privilege to count Kolajo as a member of the College Visions family, and we are eternally grateful for his energetic contributions to our organization and our field. His deep knowledge about college access and success and his infectious smile added much to our work. Naming the College Success Program in Kolajo's honor affirms our dedication to promoting college completion, a cause about which he was passionate, knowledgeable, and forward thinking.
BIOGRAPHY
Kolajo Paul Afolabi focused his career in research on helping low-income, first-generation Americans pursue higher education. Kolajo was a 2003 graduate of Brown who earned special academic honors for his studies in public policy and American institutions. After graduation from Brown, Kolajo worked in educational consulting at Policy Study Associates in Washington, DC where he continued this line of work.
In 2007, Kolajo began a doctoral program in education at Harvard. His research focused on college access and success, community colleges, financial aid, and student success programs. His dissertation was to focus on the transfer function of community colleges for low-income students. While pursuing his doctorate at Harvard, Kolajo remained connected to Providence and the Brown community by teaching as an adjunct professor at Brown in the Department of Education in the fall of 2011.
Among his many accomplishments, Kolajo served on the Editorial Board of the Harvard Educational Review and received numerous honors and awards, including the Harvard Harold A. Berry Scholarship, the Harvard University Presidential Fellowship, the Education Pioneers Fellowship, and the Taubman Center's Frederick Lippitt Prize.
In his memory, the Harvard Graduate School of Education awarded the first Kolajo Paul Afolabi Award for Commitment to Educational Justice in 2012.